Production of Embroidered Fabric
Various people are involved in the process of our "Muu toh Muu" project - from those ordering embroidered cloth to the Yao women - until we receive the completed embroidered fabrics in Japan. As the general flow is shown below, "Baan Tho Fan Group" takes the main responsibility for communicating and coordinating among the people and groups involved.
~From Commission to Completion~
*Baan Tho Fan (BTF) orders cloth making from Ms. Noi, our cloth maker, requesting specific colors.
* BTF cuts the completed cloth into ordered sizes and marks places for embroidery.
* BTF takes the prepared cloths and embroidery threads to three of the Yao villages, specifies certain patterns and requests the cloths be embroidered.
*BTF receives embroidered fabrics, makes a needle inspection, pays for the work and ships the completed products to Muu toh Muu in Japan.
Baan Tho Fan (A House of Weaving Dreams in Thai language)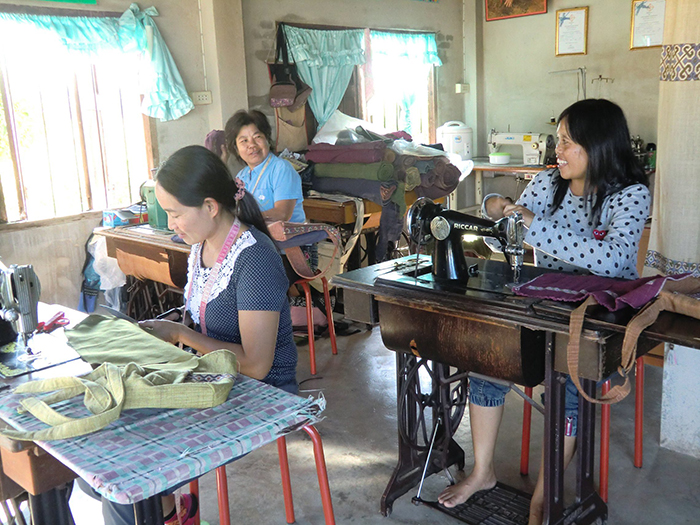 Muu toh Muu orders the Yao embroidery fabrics which we sell in Japan from Baan Toh Fan (BTF), a small group of people in Chiang Kham, Phayao Province, Northern Thailand. BTF members sell traditional embroidered pouches and bags made by the Yao minority people in the mountain areas.
Baan Tho Fan was created in the late 1980s as part of a project to promote educational opportunities for girls who would otherwise be sent to work in the sex industry. The girls who were trained by BTF in Western dressmaking became independent in 1995 and have continued their work to this day.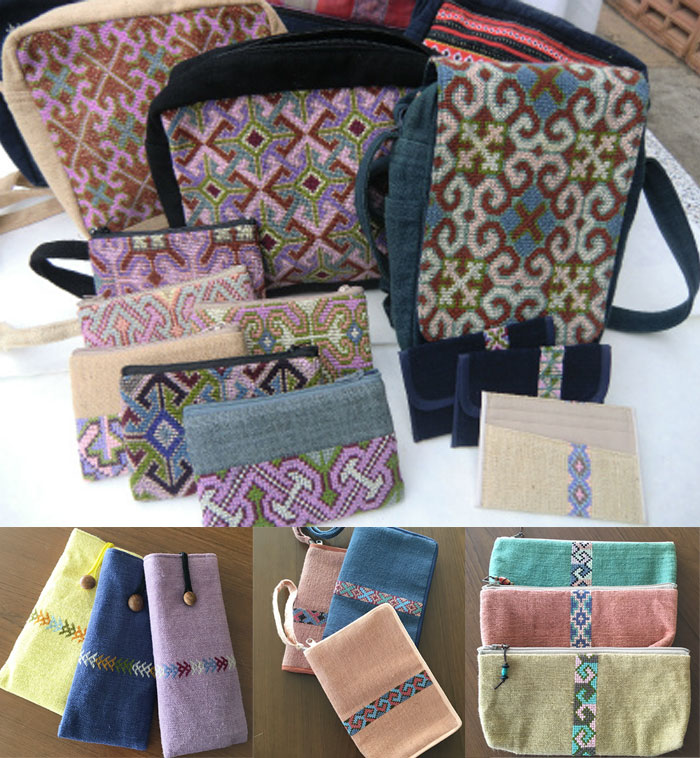 In January 2000, with the support of AWEP (Asian Women's Empowerment Project), a workshop was built, and in 2003 their embroidered cloth products were selected as one of the government's OTOP (One District One Product) products. In 2010, it was approved by the Province of Phayao as a "registered trademark in the fabric sector, a regional product."
Their sewing skills are high, the operations are stable and they have gained trust in the market for their products. In recent years, however, the number of members has been decreasing for various reasons, and it has become difficult to train new members.
BTF products can be purchased on Asian Women's Empowerment Project's website. (HYPERLINK https://tcc117.jp/awep/)
Cloth Producer Ms. Noi in Nong Buaswai Village, Mae Soo Wai District, Chiang Rai Province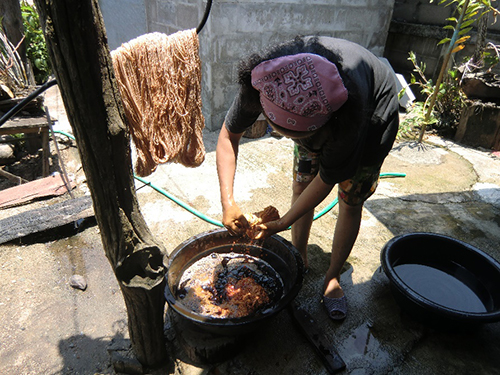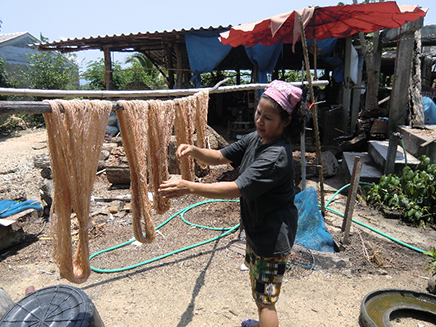 Ms. Noi purchases cotton yarn (made in China) in Chiang Mai and dyes them with dye made from plants and trees. The main materials used for dye are as follows:
*indigo
*Pradhu (Angsana/ Burmese Rosewood): red-brown.
*Sadao (Neem ) green
*Canun (Jackfruit): yellowish brown
*Anchan (Butterfly pea ): blue
*Lac (Scale insect ): red
However, she can no longer go to the forest since her husband passed away. Therefore, she dyes with whatever she has around her. Also, in recent years, the lac, which is the source of the red dye, has become almost impossible to obtain.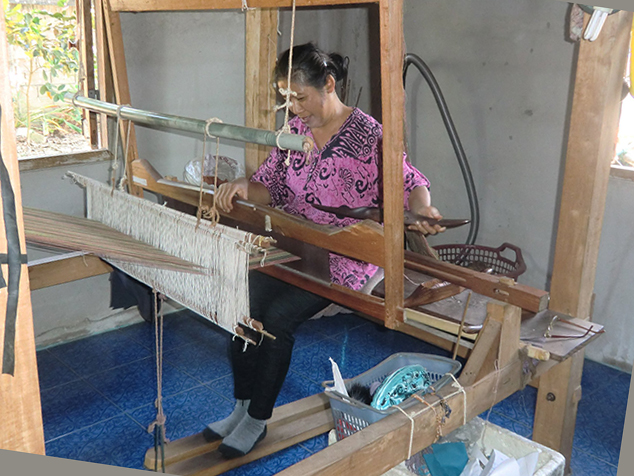 She uses a few chemical dyes to prevent the color from fading, but after repeatedly dipping and drying the yarn, the colors become darker and darker. It is not possible to dye the yarns exactly the same color because it is hand-dyed. The dyed yarns are woven on a loom to become hand-woven fabric dyed by plants and trees.
Embroidery Groups
*Tam Village, Chengkham District, Phayao Province
*Soptu Village, Chengkham District, Phayao Province
*Pa Daeng Laan Village, Chengkham District, Phayao Province
The above groups have been responsible for the embroidery of BTF products from BTF's start. They used to have about 50 members, but this number has gradually declined to 20-30 members. While growing upland rice, longan, corn, and other crops in the mountains, they embroider whenever they can find the time.