Muu toh Muu
~from Hand to Hand with Asian Women~
Project to support the succession and preservation of Asian women's handcrafts
Muu toh Muu was founded by women in Kansai who purchase hand-made Asian handcrafts and sell them in Japan.
In northern Thailand, women of the Yao ethnic minority have inherited and handed down traditional embroidery alongside agricultural practice. In recent years, however, the value of traditional embroidery has not been fully recognized and more and more women are choosing to emigrate overseas or move to cities where they can earn more money. With improved educational opportunities, moreover, young women tend to choose a life in the city instead of returning to their villages after finishing school, thereby jeopardizing the survival of traditional embroidery.
This situation is not limited to Yao embroidery alone. We are afraid that the handcraft of Asian women is in danger of being lost, as it is difficult to pass on to the next generation.
We have, therefore, started a project to support the succession and preservation of Asian women's handcraft traditions, called "Muu toh Muu" and we will do our best to pass on the traditional handcraft techniques to the next generation to nurture their successors, and to increase the number of people who understand them. We hope that many people will learn and come to appreciate the beauty of traditional handcrafts and that this will create a new demand for them. It is with these hopes that we have established this group.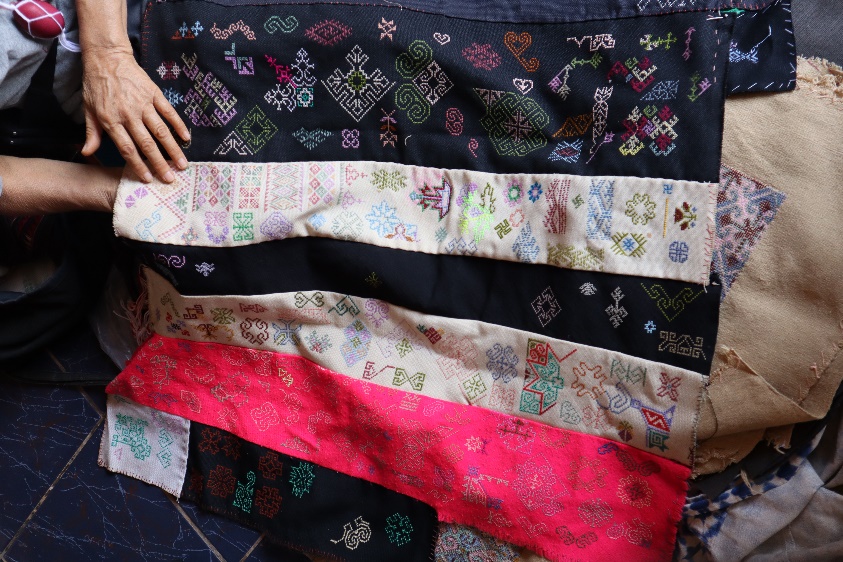 Activities
1. Working together with Yao Villagers in Northern Thailand
Creating a place to collaborate and work together with Yao women for the preservation of traditional Yao embroidery and the continuation of the art.
Helping train the decreasing number of Yao embroidery successors and supporting the next generation of leaders.
2. Gaining knowledge of the Yao Embroidery Culture
Conducting historical and ethnic research on Yao embroidery culture and sharing the results with those who make and use embroidery handcrafts.
Promoting the worldwide awareness of the wonderful traditional skills of Yao women, and most importantly, encouraging women to have pride and confidence in their embroidery skills.
3. Introducing and Selling Yao Embroidery Cloths and Works to the World
We help Yao women become wealthier through their embroidery, by ordering, buying and selling their products widely in Japan.
We exhibit Yao Embroidery Cloths and Works.
4. Introducing the traditional handcrafts of women from all over Asia to the rest of the world.